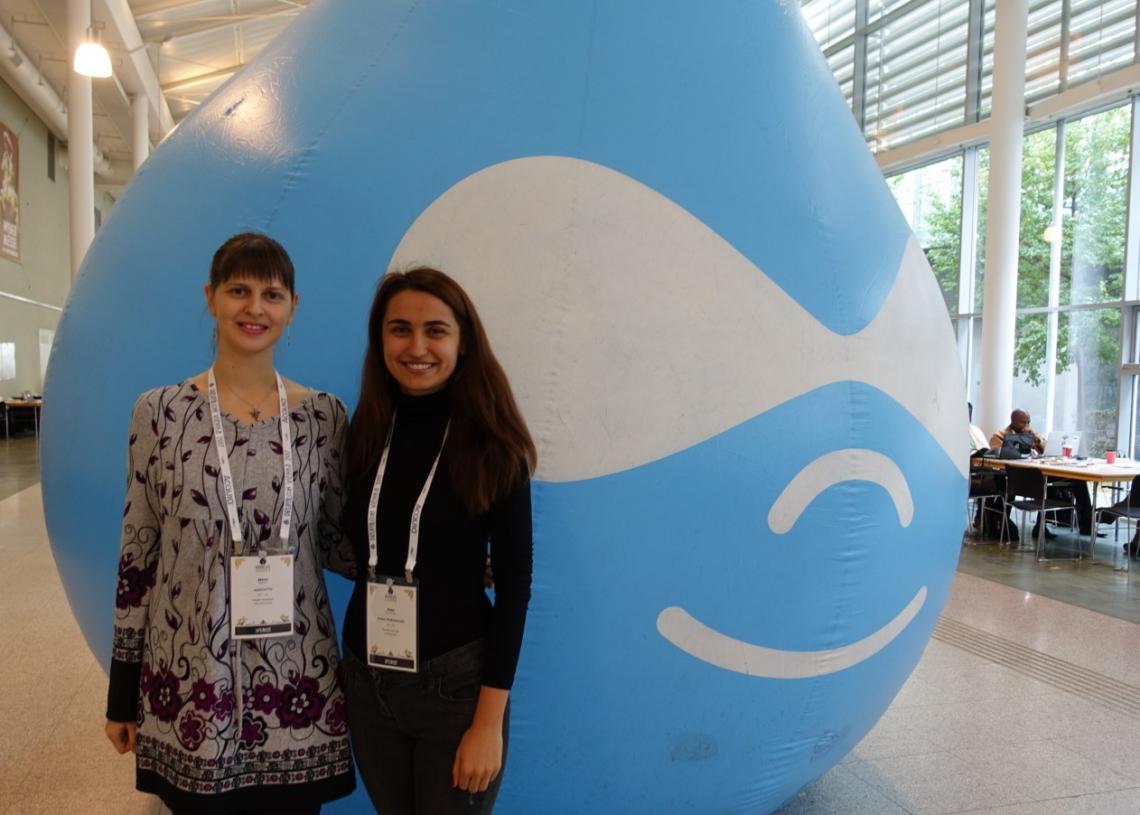 Authors: Anna Radulovski, Maria Totova
DrupalCon Nashville is coming! And you are probably very excited about it :) Especially if it is your first time.
Last year I and Maria participated at DrupalCon Vienna as speakers. To share our learnings, impressions and feelings about the conference, we have written a report. Curious? Read here. 
After the whole week at the conference, we realised that we could have done more. We told ourselves: "Why not to share with the community members and freshmen some useful tips and advice?" So, here they are:
Make your own schedule of the sessions and plan it really well. The truth is that you cannot have them all, so it is good to know your priorities in advance; 

Wear comfortable shoes! Like really comfortable. Whether you are a speaker or just a participant, you will spend the whole day on your feet, be sure of that;

Ask a good question at the end of the presentation! Speakers love that ;) Besides, asking interesting questions can be as great as speaking at the con;

Make sure to visit the keynotes and even wake up early for the prenotes - it's absolutely worth it!

Participate in discussions and exchange ideas, it's the perfect way to share your thoughts, hear different opinions and get some advice. The Monday summits offer the best time for that and you will find further opportunities during the con for sure;

Photo Credit: Josef Dabernig @dasjo 
Take part at the code sprints! Nothing feels better than sharing your knowledge and learning with others, helping with bug fixing and being useful;

Simply be friendly and don't be afraid to say "hi" to someone famous in the Drupal Community. We are all people, after all;

Look for a mentor - this is the time and the right place. Having someone to advice you and guide you is priceless!

Grab some stickers (the more the better, bring some to your colleagues and local community), enlarge your t-shirt collection or just get some other freebies to remember the great event :)

Tweet, share and comment about the con. Use hashtags (including #DrupalCon), find out what people are talking about - it may just turn out to be your thing;
As promised our Coding Girls Video Survey for #DrupalCon #Drupal #WomeninDrupal #WomenInTech

Sharing is caring!https://t.co/Pp1z8iGFnq

— Coding Girls (@CodingGirlsCom) September 29, 2017
Take part in the social events (Women in Drupal, Trivia Night) that are organised along the conference. They are both fun and beneficial, you will understand that once you get there. We had a great time at Women in Drupal where we met many interesting and inspiring fellows.

Print some business cards. Seriously! But don't just throw them into everyone's face, rather give them with respect after establishing a contact and write down notes and action points on the cards you receive to remember the context afterwards;

Don't forget to thank the people you meet and you are grateful to. Appreciation goes both ways :)  

Get a tour or two around the companies' booths, see what they are doing, what they are looking for and offering. It is always good to keep yourself acquainted with "what's new". No need to mention the fun games they organise, you will really enjoy them;
Explore the city! Post pictures on Instagram and Facebook so that friends become more jealous :) Haha, next time they will definitely want to come with you!

Meet other Drupalists! It is the ideal moment to learn from people having not only different skills but also different cultural backgrounds. Diversity matters a lot and if you haven't found this out yet, you will feel it at the con in no time!
#DrupalCon is over, but photos are not! Thanks Drupalists for an unforgettable week @DrupalConEur #DrupalConMemories @CodingGirlsCom pic.twitter.com/V5UVsjmObU

— Anna Radulovski (@annaradulovski) October 1, 2017
Remember to charge your devices well. You will especially need them for all the tweets and photos on the social nights out with your fellow drupalists :)  

Let more people know about the Drupal Community and DrupalCon in particular. Blog about your impressions and take-aways, share it on Medium or make a video :) 

Whatever you decide to do at the con, don't forget one thing -  make sure that you are having fun with your Drupal fellows. You will definitely meet many great people and make friends for life. So, go ahead and enjoy yourself at the next DrupalCon!
What is the tip that you'd like to give someone visiting DrupalCon for the first time?