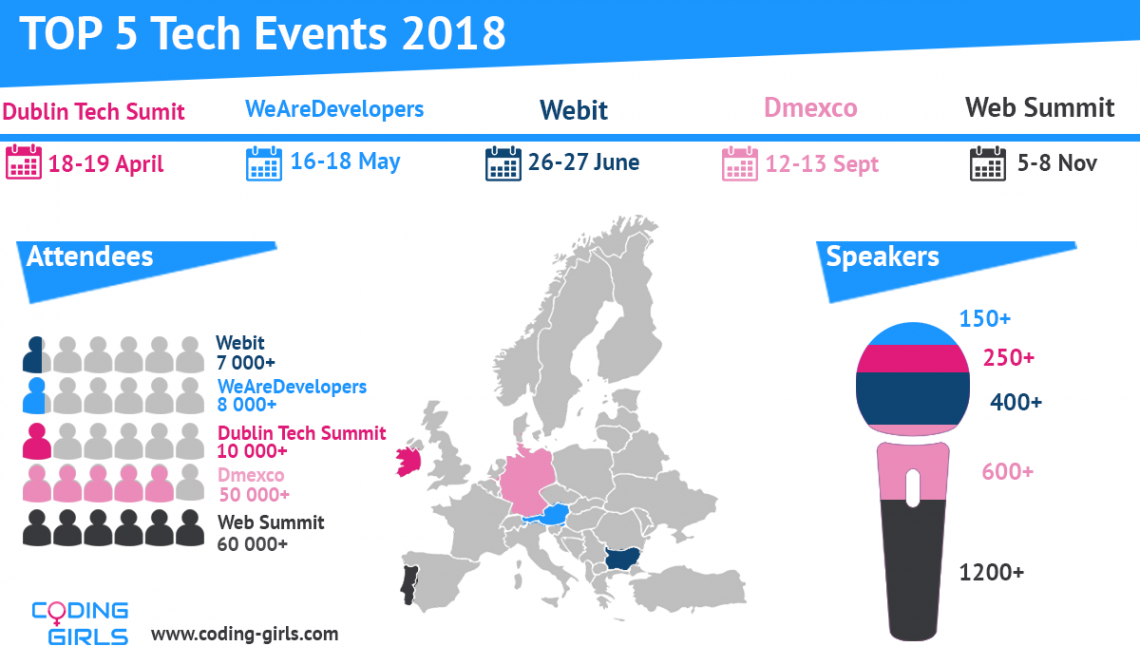 Planning to make the most of 2018? Looking for major tech events to visit in 2018?
Checking endless lists might be overwhelming. Plus, the number of tech events grows every year. But worry not! We've gathered a short list of five of our personal favourites for you!
APRIL
Some of the speakers 2018:
Jinyoung Englund (Former Director The Bitcoin Foundation)
Gretchen Alarcon (Group Vice President Oracle)
Anne Ravanona (CEO & Founder Global Invest Her)
Julie Meyer, MBE (CEO & Chairman Ariadne Capital)
MAY
8000 Attendees, 150+ Speakers, from 50 countries
Dates: 16-18 May
Location: Vienna, Austria
Twitter: @WeAreDevs, hashtag #WeAreDevs,
Diversity focus: 49% female speakers, Diversity Funding.
Some of the speakers 2018:
Angie Jones (Senior Automation Engineer at Twitter)
Brenda Romero (Design Director, Co-Founder at Romero Games Ltd.)
Amanda Cavallaro (Co-organiser at GDG Cloud London, Women Techmakers London)
Maria Naggaga (Senior Program Manager at Microsoft)
JUNE
7000 attendees, 400+ Speakers, from 100+ countries
Dates: 26-27 June
Location: Sofia, Bulgaria
Twitter: @WebitCongress, hashtag #webit
Diversity focus: just look at the speakers! Maria Gabriel started #NoWomanNoPanel campaign to ensure each panel has female speakers at Webit.
Some of the speakers 2018:
Maria Gabriel (Commissioner for the Digital Economy and Society, European Commission)
Eva Maydell (Paunova) (Member of the European People's Party Group, European Parliament)
Rumyana Trencheva (Managing Director for SAP South-East Europe)
Sheree Atcheson (UK Expansion Director, Women Who Code)
SEPTEMBER
50000 attendees, 570+ Speakers, 1100 Exhibitors
Dates: 12-13 September
Location: Cologne, Germany
Diversity focus: Gender Equality. dmexco 2017: 29 women from tech, media and marketing (⅓ Share of Female Speakers on Curated Stages), Girls' Lounge and other activities.
Some of the speakers 2017:
Sheryl Sandberg (Chief Operating Officer of Facebook)
Katharina Borchert (Chief Innovation Officer at Mozilla)
Jacki Kelley (Chief Operating Officer at Bloomberg Media)
Margit Wennmachers (Partner at Andreessen Horowitz)
NOVEMBER
60000+ Attendees, 1200+ Speakers, from 170+ countries
Dates: 5-8 November
Location: Lisbon, Portugal
Twitter: @WebsummitHQ, hashtag: #WebSummit
Diversity focus: 42% of the attendees and 35.4% of the speakers were female in 2017. Women in tech lounge during the event.
Some of the past speakers:  
Gillian Tans (President & CEO at Booking.com)
Julia Hartz (Co-Founder & CEO Eventbrite)
Linda Boff (CMO at General Electric)
Margrethe Vestager (European Commissioner)
We hope to see you at one of these events. This list is curated by our team, consisting mostly of volunteers, based on criteria like personal experience, some research, statements made by the organizers and activities set out to improve the diversity and inclusion rate of female speakers and participants. We might have missed other events which are doing a great job, which does not make them less diverse & inclusive - if you know such, comment and let us know how they support diversity and inclusion. Please, bear with us and don't forget to share this article to support our initiative.